Why Pattern Imprinted or Stamped Concrete is not an option for the Alicante area:
Pattern Imprinted Concrete is a type of concrete that is patterned and/or textured or embossed to resemble brick, slate, flagstone, stone, tile, wood, and various other patterns and textures.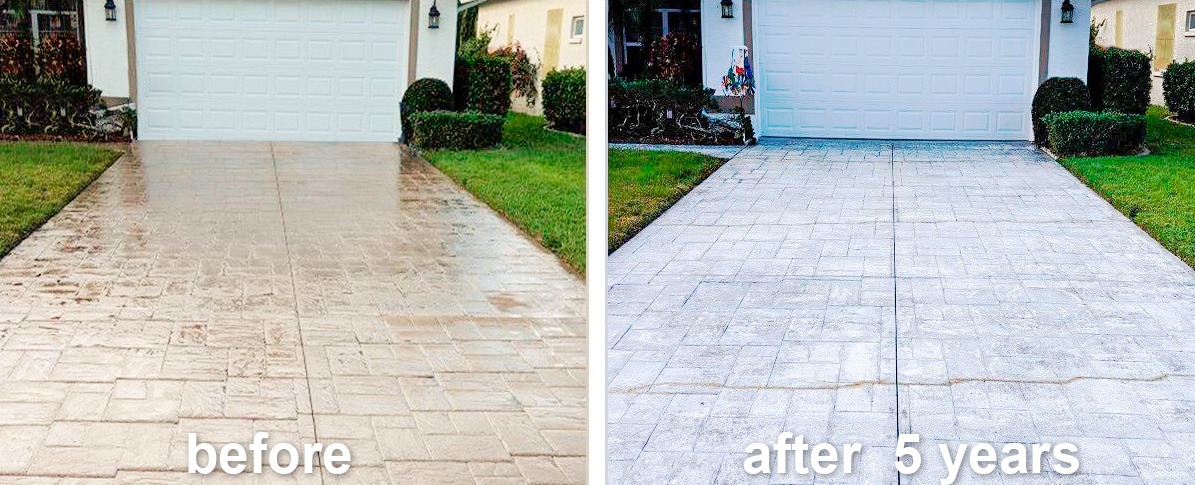 Imprinted or Stamped concrete is commonly used for patios, driveways, pool areas, and interior flooring.
It's ability to resemble other building materials makes imprinted concrete a less expensive alternative to other authentic materials such as stone, tile, slab or crazy paving.
There are four procedures used in imprinted concrete which separate it from other concrete procedures:
Addition of a base colour
Addition of an accent colour
Stamping a pattern into the concrete.
Addition of a Final Coat of sealer
These procedures provide stamped concrete with a colour and shape similar to the natural building material.
Advantages:
Ease of installation;
Cheaper price.
Disadvantages:
High and regular maintenance – the sealant needs to be reapplied every year with Alicante's sun;
Lack of durability – roots or ground movement cracks it;
Top layer peels off if not done properly;
All future repairs are noticeable – the new patch will have different appearance;
Below are some examples of the state of the imprinted concrete after the years and the result of some repairs that show how this type of concrete is not an option.
In conclusion, we always recommend our customers to choose the tiles /slabs / crazy paving option, as Spain is the country of tiles, where you can find ceramic / porcelanic tiles at a very attractive price.