The assigned team started by completely stripping out the existing floors, ceilings, and walls which was crucial for such an old house.
The home was internally remodeled to make it flow, where the ground floor appears visually connected from the front to the rear, creating the ideal layout for an open plan living space.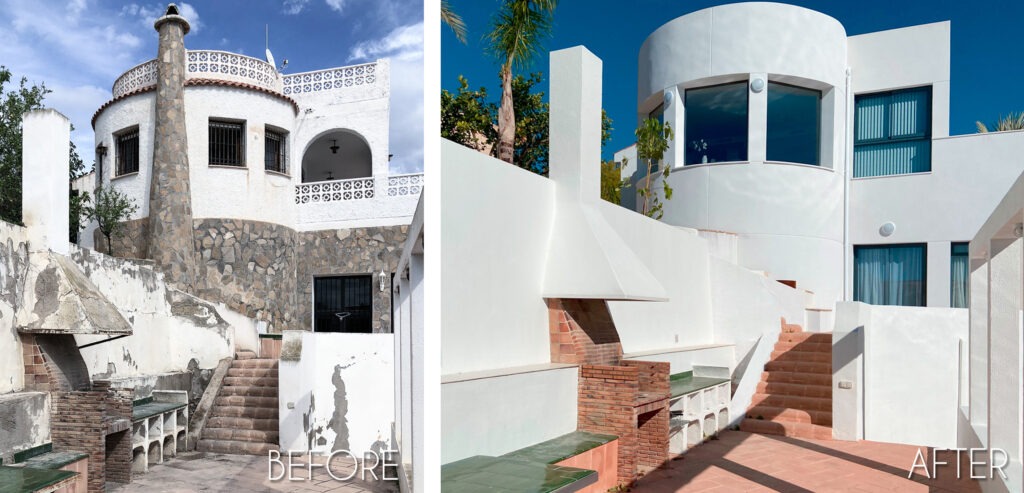 The lounge area was facing south, with a splendid sea view, but covered by 4 small windows and a chimney in the middle. Creating only big three windows, from floor to ceiling, involved the introduction of several structural posts and beams that were going to support the roof above. Once the structural elements were in place, aluminium dark grey windows were fitted, which added a natural voguish feel to the home.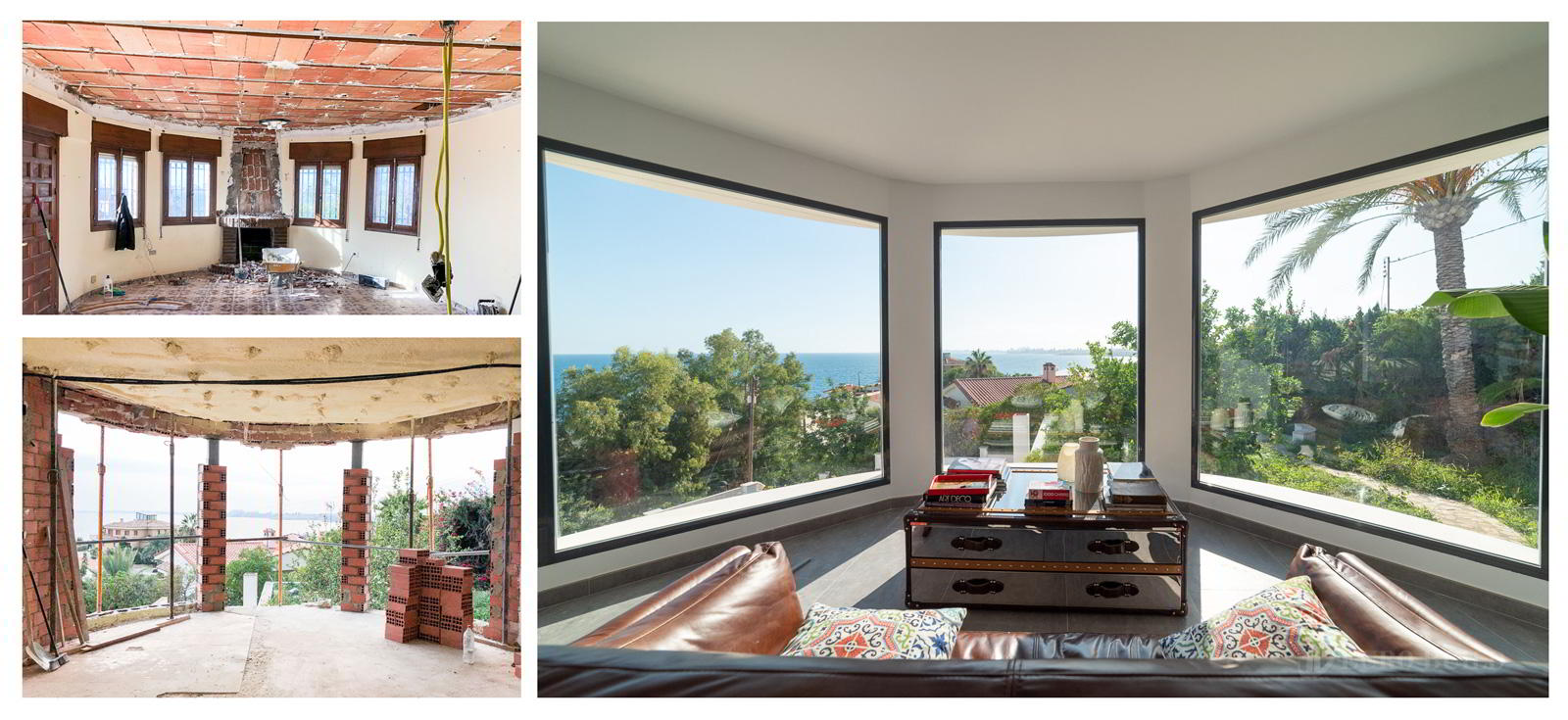 The new bedroom and suite bathroom situated on the first floor, having the windows all the way to the floor, extended the rooms to the back garden.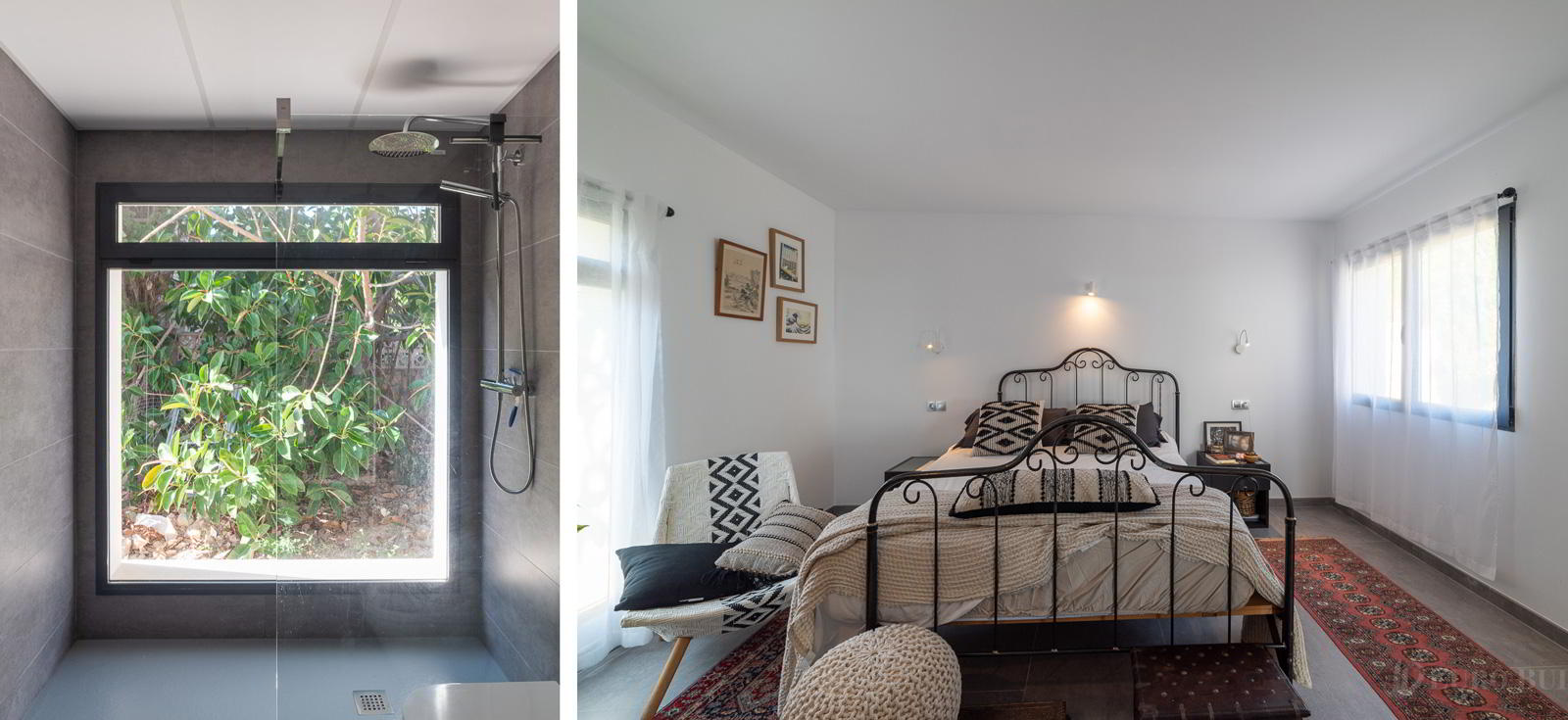 Right where the old exterior wall was, the new open plan kitchen is now the main attraction, offering a large worktop, comfortable breakfast bar, and plenty of units.
The dining area with an oval table for six offers space and splendid views, being in between the big sliding doors and kitchen counter.
Next to that, is the metal spiral staircase that takes you to the roof. Here we had a big challenge: we had to cover the staircase, not go over the handrail height so the back neighbor does not lose the sea views, and to stay within the budget. Our team came up with the idea of using aluminium, glass, and polycarbonate in order to create a skylight and cover the staircase.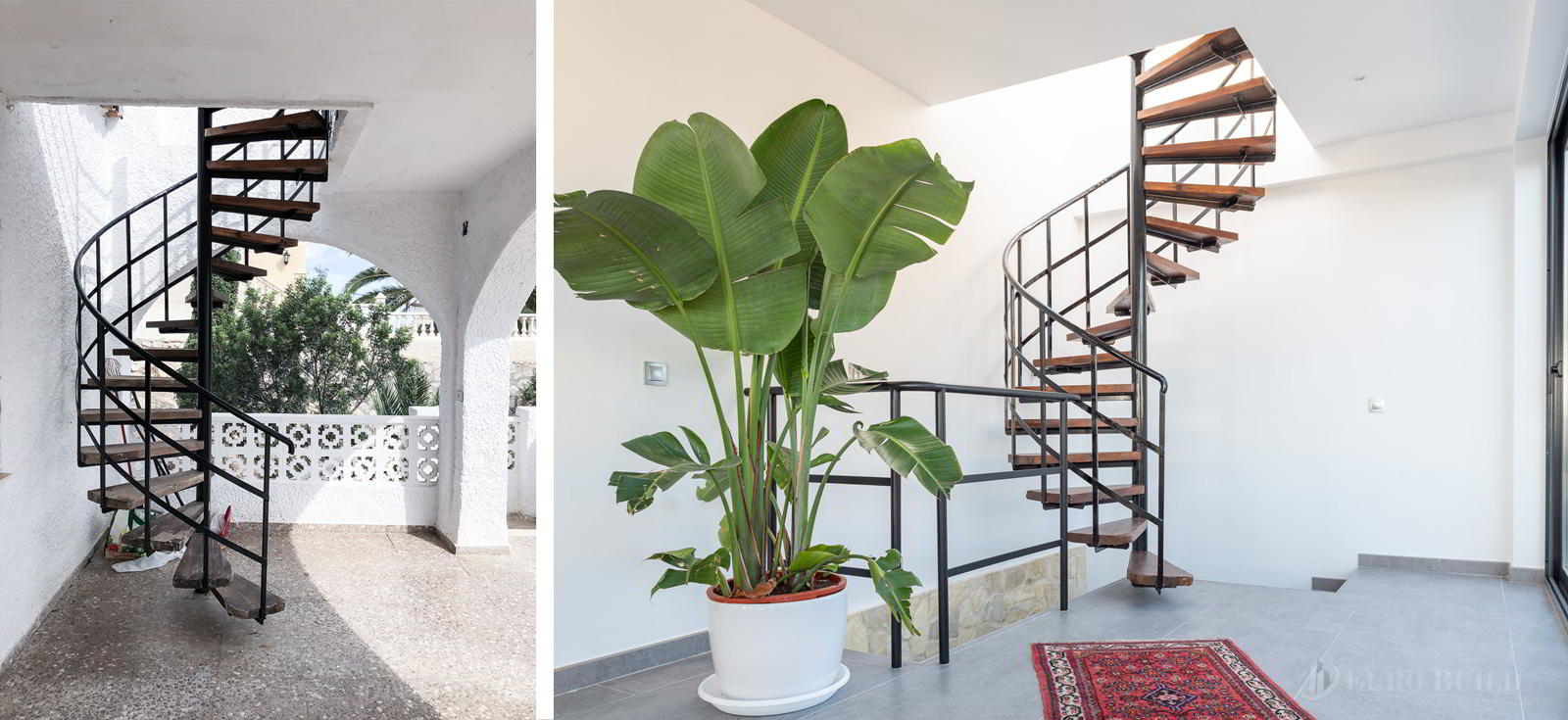 Here on the roof, we've replaced the old screen blocks with a 10 cm wall, being a handrail, and increased the facade height as well. Also, we've found the perfect skylight solution for the budget, simple and effective.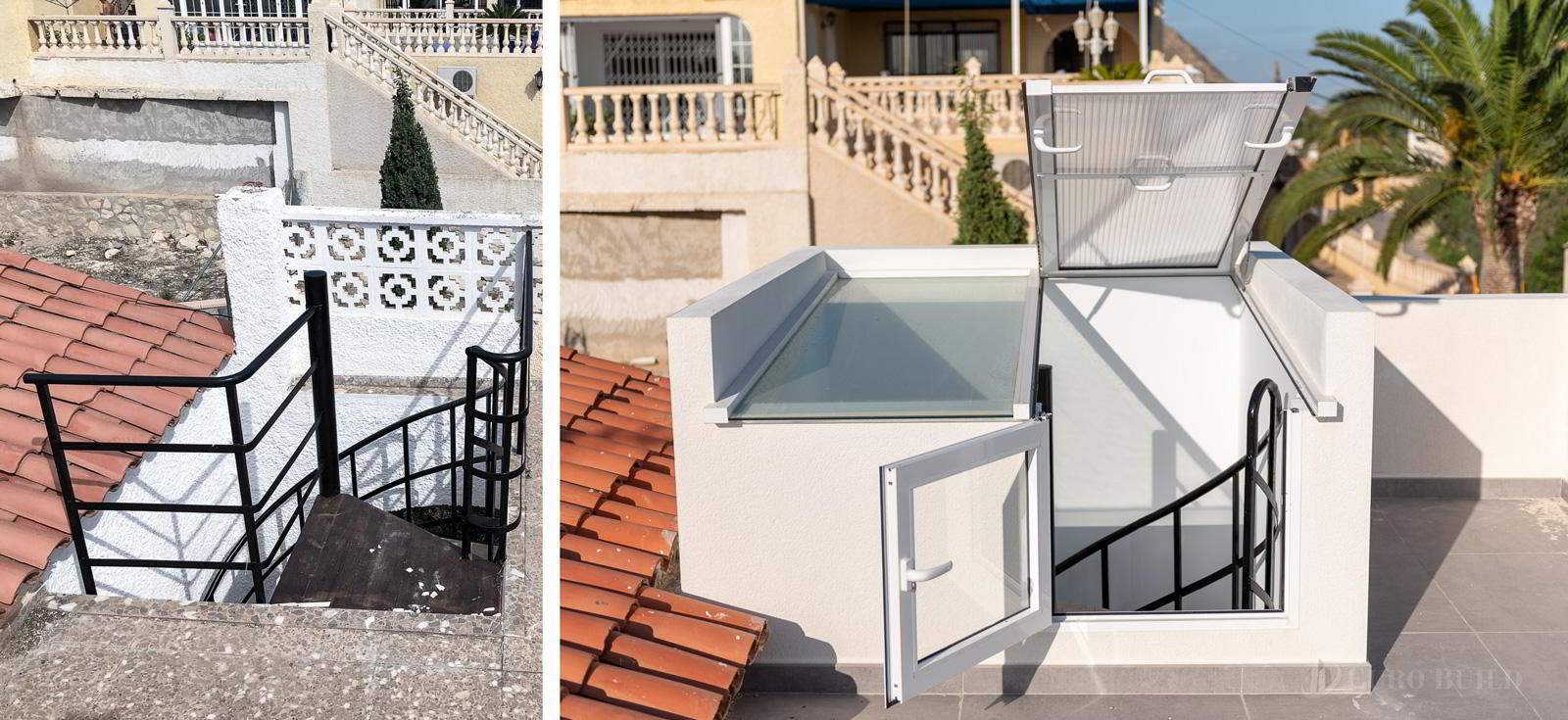 Moving on to the ground floor involved cutting the floor and introducing a metal structure to shape a new staircase between the two floors. The wall beside was finished with crazy paving / natural stone, hiding the fact that it was not perfectly vertical.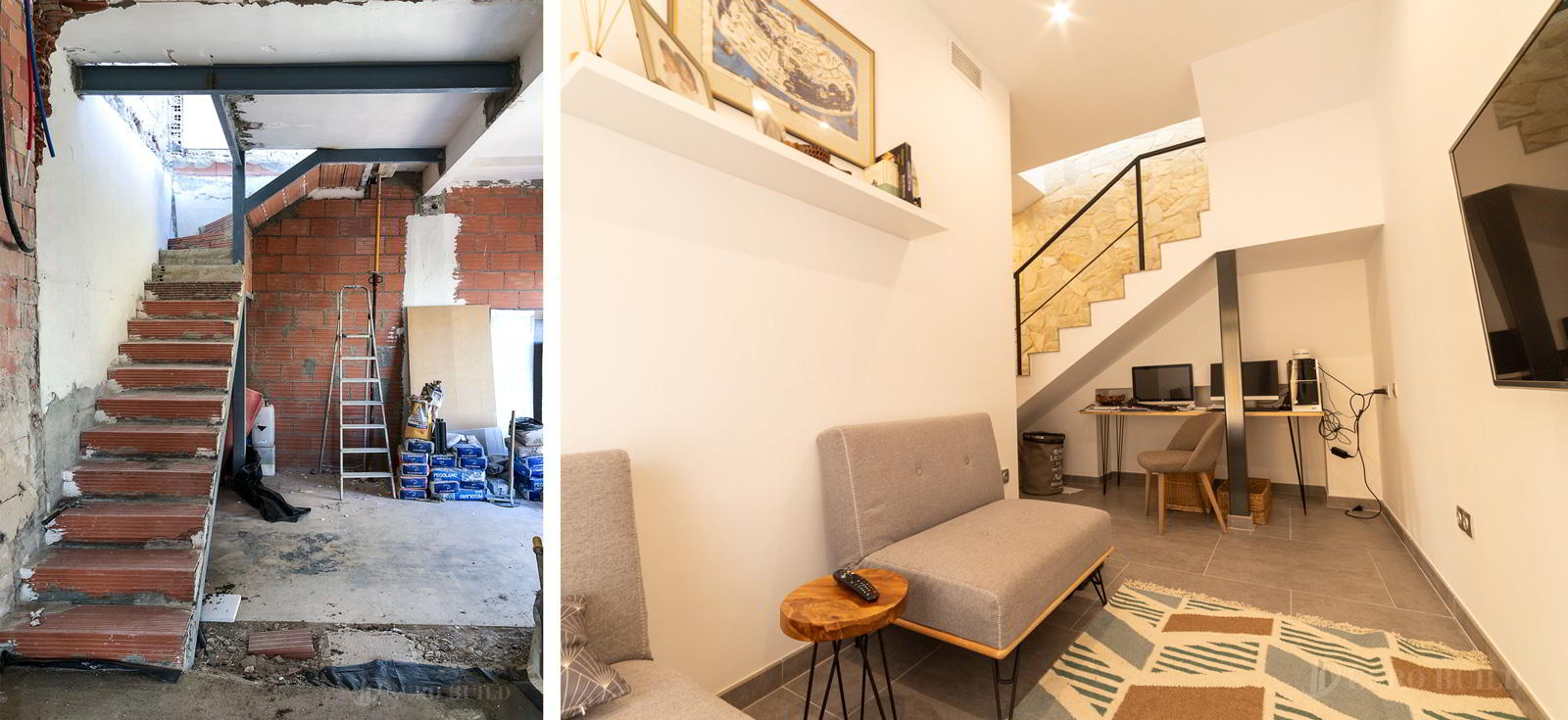 Next, the team installed a new bathroom on the ground floor and two bedrooms, each of the bedrooms with a built-in wardrobe.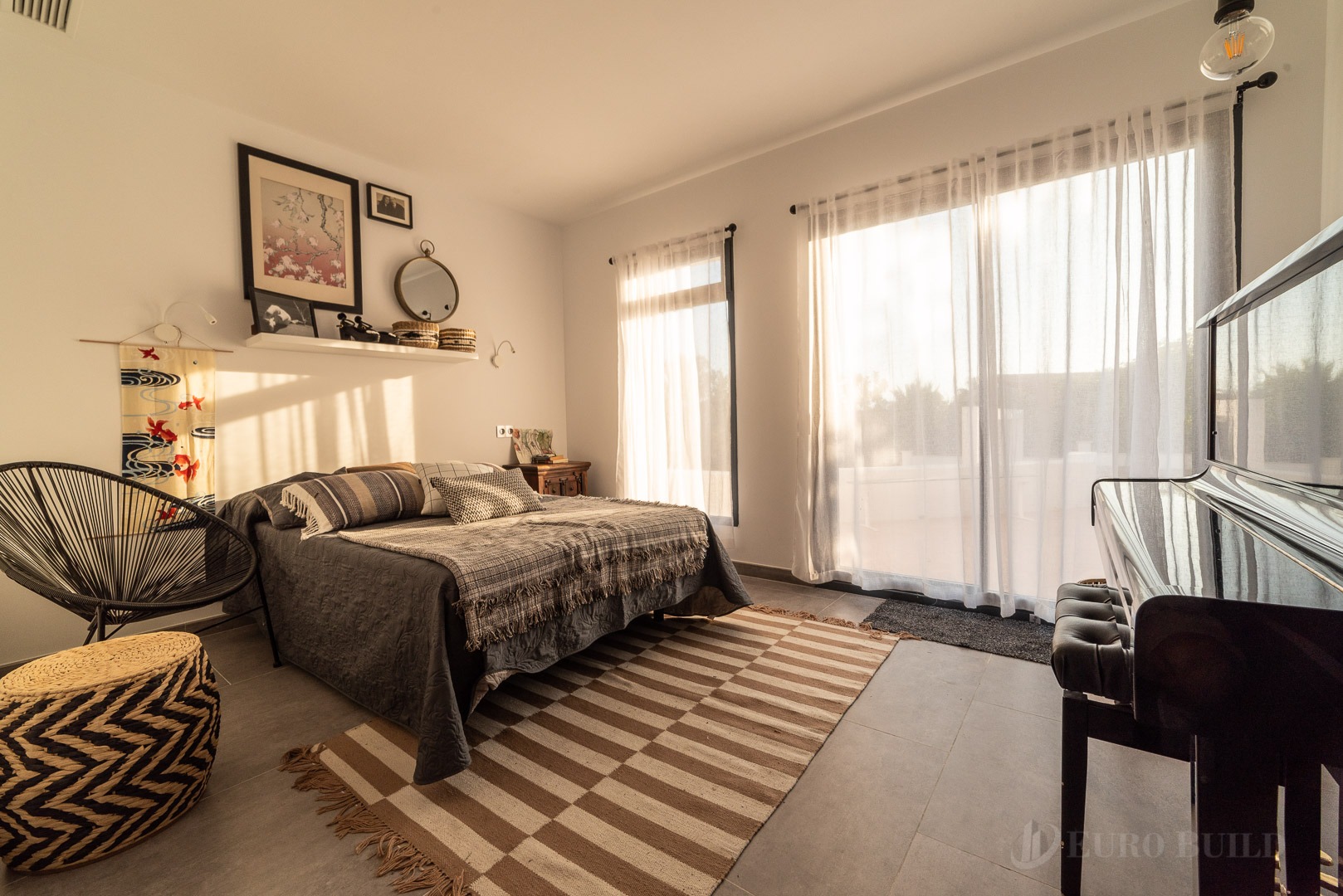 As before at this level was a garage, from this garage we've managed to build a bathroom and a small but cozy lounge area.
From the ground floor bedrooms, you go directly to the pool area, which before being renovated it looked old and untidy. Now, after the pool has been retiled and refilled, looks very inviting, being the place to be all over the warm season, almost three-quarters of the year. Also, there is a BBQ and a sitting area, the perfect place for summer evenings to share a juicy steak, and a few drinks with family and friends.
Get in touch today to meet with your local EUROBUILD specialist.